We create each kind of printed product and we follow each step. Graphic design - print - post print: everything happens inside our laboratory having each kind of machine so, we can turn raw material in a finished product without using any kind of intermediary. That's why our prices are unbeatable!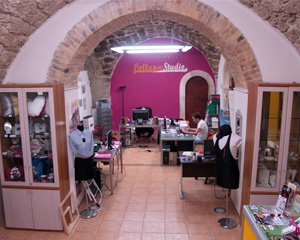 TIME? It's not a problem! We invest continually on innovation being always out of step with the times. Thanks to recent business investments, we introduced two advanced machines, real graphic art "jewels" by which we could give high quality prints in short times: rapidity and shine are a trademark, by now. Thanks to our passion, in a few years since the opening, we were able to grew exponentially: our staff is always out of step with the times and machines in evolving. Every year we invest in new more powerful machines. For our equipments and for all raw materials, we rely only to leader brands of graphic arts. In this way, we can ensure a final result success.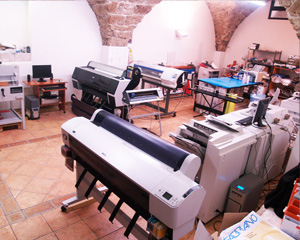 Our passwords are: UPDATING, QUALITY, RAPIDITY and CONVENIENCE FOR CUSTOMERS. That's why we became ITALIAN LEADER as regards some division (as the one of cd and dvd printing and duplicating).

Being out of step with the times but respecting the past: our firm has been created inside a big eighteenth century tavern located in the centre of Popoli (Pe). The typical tuff vaults tower over rooms decorated in modern style and the stone arches welcome guests in the several rooms with unique and charming style.
We are a firm leader in Italy for cd print order 'till 500 pieces. The product we will give you has all the qualitative characteristic of a cd you find in a record store.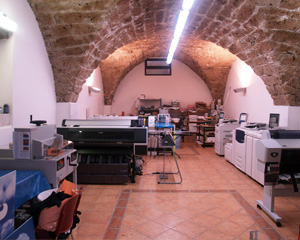 Asking a free quote, you will be stunned knowing the convenience of our products! We deal with cd print and duplication, dvd print and duplication, booklet print and packaging(jewel box, slim box, cartonsleeve, dvd box, ppbox, superjewelbox, spindle, collapse studio box, jewel box with cardboard, etc..). Thanks to the constant machines innovation and the deep experience in the field of printing, CD PRINT DIVISION gives you the opportunity to choose the product among the several standard packs or to personalize your product. We control carefully each process from print to duplication. You make music, we create your cd. So, what are you waiting for? Please, contact us for a quote as soon as possible!